Anti-Muslim groups' ad in NYC subway calls jihad 'savage.' Is now a good time?
With the Muslim world still roiled by the US-made, anti-Muslim video on YouTube, the ad citing 'war between civilized man and the savage' will appear Monday at 10 NYC subway stations.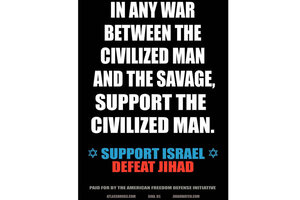 Pamela Geller/The American Freedom Defense Initiative/AP
With the Muslim world still roiled by a YouTube video denigrating Islam that was made in California, an ad that some groups consider anti-Muslim will appear in 10 of New York's subway stations starting on Monday.
"In any war between the civilized man and the savage, support the civilized man. Support Israel. Defeat Jihad," reads the ad, which is being paid for by two groups, the American Freedom Defense Initiative and Stop the Islamization of America, both of which have a distinctly anti-Muslim bent.
The Anti-Defamation League and the Southern Poverty Law Center consider Stop Islamization of America to be a hate group.
One of the people involved with placing the ad is Pamela Geller, a co-founder of the two groups who was also behind the effort in 2010 to halt the construction of an Islamic community center near Ground Zero in lower Manhattan. She says there are plans to run the ad in several other US cities once there is funding, and on Thursday the sponsors filed suit to have it run in the nation's capital as well.
---