Bronx zoo tiger attack: Man lives, big cat is forgiven
Survivors of tiger attacks often hold no animosity. As he lay injured from a tiger bite, entertainer Roy Horn whispered, 'Make sure no harm comes to Montecore.' Likewise, the tiger that mauled a man who jumped into his enclosure at the Bronx Zoo will not be euthanized.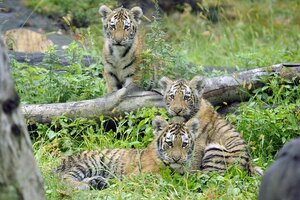 Julie Larsen Maher/AP
Bashuta, the 400-pound tiger who mauled a man who jumped from an elevated train into the Bronx Zoo Wild Asia exhibit Friday, "did nothing wrong" and won't be euthanized, zoo officials say.
The acknowledgement that the 26-year-old man was the culprit and the big cat was only acting out its nature isn't uncommon in tiger attacks. In a long line of tiger attack cases, survivors tend to blame themselves or other factors, not the cats. Some victims even mourn when big cats are put down after an attack.
After the entertainer Roy Horn in 2003 nearly died after being bitten in the neck by Montecore, a tiger he had raised since it was six months old, he told assistants, "Montecore is a great cat. Make sure no harm comes to Montecore." (Mr. Horn performed with Montecore again in 2009 as part of a "20/20" program.)
IN PICTURES: Famous zoo escapes
And a British woman who was mauled by a zoo tiger 30 years ago now raises money to help protect endangered cats around the world.
"I said I didn't want the tigress destroyed because I didn't think it was a vicious attack – she was just being herself and didn't do anything out of character," Janet Coghlan told the BBC in 2010. "But sadly a few months later, she was destroyed."
---