Census report finds 'pulse in the urban core' of America
With Hispanics and young whites leading the influx, US cities of 5 million or more residents saw the population of their inner cores increase 13 percent in the last decade, the Census reported.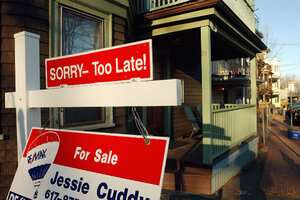 John Nordell / The Christian Science Monitor
US cities saw their core populations boom by 10 percent in the last decade, as both Hispanics and young white Americans found it increasingly beneficial and appealing to live close – often very close – to the inner city, according to a unique Census report released Thursday.
Many American cities – Boston and Los Angeles being two good examples – have of course seen similar gentrification movements since the 1990s, and even before. And, certainly, Rust Belt cities in Ohio and Michigan continue to be whittled down by suburbanization and the flight of capital.
But the Census data showing that the influx to city cores has expanded more broadly, and that it's primarily Hispanics and white "pioneers" who are targeting ailing downtown areas for revival, suggest that growing numbers of Americans are no longer seeing inner cities as founts of despair, but as harbingers of possibility.
"What's new here is that it shows there's a pulse in the urban core, in big metro areas that have diverse economies," says William Frey, a demographer at the Brookings Institution, in Washington.
"It's interesting that Chicago and New York were the top ones, which suggests these are places that will attract young and well-off people who want to feel like they live in an important area," he says. "You can't generalize entirely, of course, because while some urban cores are doing very well, others are still part of a broader suburban trend" where downtown areas are emptying out.
---