Obama's new program for young illegal immigrants: How is it going?
More than 82,000 young illegal immigrants have applied for a work permit under the Deferred Action for Childhood Arrivals (DACA). But the November elections could be key to what happens next.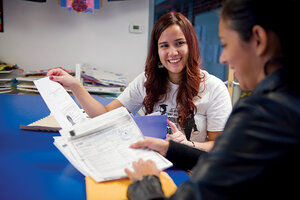 Ann Hermes/Staff
Lynn, Mass.; and Boulder, Colo.
When Jessica Lopez's mother brought her to the United States illegally from Colombia, she was 6. She grew up in East Boston, constantly reminded that she had to hide her background.
Now 19, her future is anything but certain. But she's confident enough to take a course toward becoming a medical interpreter – a career aspiration that was totally impractical just a few months ago.
Ms. Lopez is among more than 82,000 young people who have already applied for protection from possible deportation – and a work permit – under the new program announced by President Obama in June. Officially called Deferred Action for Childhood Arrivals (DACA), it's been colloquially known as DREAM Act-lite.
Awaiting a criminal background check and final approval, Lopez is expecting to receive permission soon to stay and work in the country for two years, and then possibly renew and stay longer.
"At the end of the day ... we shouldn't be known as illegal immigrants, because we didn't choose to come here," says the part-time student at Quincy College in Massachusetts. "I've lived in this country for 13 years, and it's as much a part of me – you can double the amount of time I was in Colombia, and it's still more [time spent] here."
Caroline Carlson, a 19-year-old student at the University of Maryland (UMD) in College Park, says she has some sympathy for children brought here by their parents, but the new policy of giving them work permits doesn't sit well with her.
---