A news future in feisty upstarts?
A quintet of local news organizations trying to gain a digital foothold.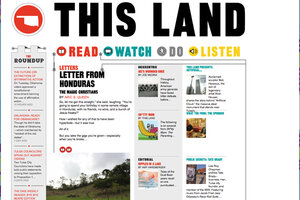 thislandpress.com
The future of community journalism is still a rough draft. As newspapers falter, hundreds of ventures are testing models to keep local news alive.
They haven't had an easy time. Among the largest is Patch, a network of more than 850 "hyper-local" news sites. AOL purchased the company in 2009 and reportedly spent $160 million on it last year. But Patch remains unprofitable. In September, its websites began shifting to a format focused less on news, more on user-generated content and social groups.
When it comes to preserving local reporting, some of the most promising experiments are just that: local. Instead of plotting vast empires, an emerging tribe of innovators has pursued a different strategy. Their mantra? Think small.
From New Haven to Honolulu, media pioneers are building a new space for civic newsgathering. They're keeping watch over public officials, breaking big stories, and working to engage communities. They are as diverse as the places they represent. Here's a look at five standouts:
Voice of San Diego
Last year in a San Diego County school district, officials took out a $105 million loan for school repair. That sum wasn't remarkable. But the amount citizens will repay – nearly $1 billion between 2033 and 2051 – caused a public uproar when it was reported in August by Voice of San Diego, a nonprofit investigative news site founded in 2005. Since then, angry taxpayers have crowded Poway Unified School District meetings. Lawmakers are fighting to prevent similar deals in the future.
It's not the first time the small newsroom has had a big impact. In 2008, a Voice of San Diego report led to the ouster of two city redevelopment officials later convicted of embezzling more than $400,000.
---