Is the death of newspapers the end of good citizenship?
The death of newspapers – by cutbacks, outright disappearance, or morphing into lean websites – means a reduction of watchdog reporting and less local information. Some say it has caused a drop in civic participation. Is it a blow to good citizenship?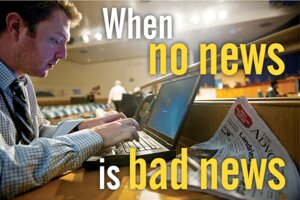 Ann Hermes/The Christian Science Monitor
One Saturday in June, the Pinstripe Brass Band played a traditional jazz funeral in the lakeside Gentilly neighborhood of New Orleans. When "Just a Closer Walk With Thee" gave way to a livelier tune, dozens of mourners danced.
But there was no coffin. Black frosting on a sheet cake spelled "-30-," the mark reporters put at a story's end. This was a requiem for a newspaper.
The 175-year-old daily Times-Picayune, with a paid weekday circulation of more than 134,000, had announced plans to slash print publication to three days a week, leaving daily coverage to its online edition. "Paper Lays Off 200 Employees" blared a Times-Picayune headline. Those cuts included the funeral's host, photographer John McCusker, who had documented hurricane Katrina from a kayak after losing his home to the floodwaters.
The Pulitzer Prize-winning work of Mr. McCusker and his colleagues had madeThe Times-Picayune indispensable to a community rebuilding after tremendous loss.
So when readers learned their daily paper was going away, many saw a dangerous civic situation.
The irregular, diminished patchwork of media that remains – which encompasses fewer seasoned reporters – won't come close to offering the same intensive coverage that a full-force daily did, says activist Anne Milling. On the watchdog side, that means reduced government accountability. And on the information-delivery side, in a city where a third of adults lack home Internet access, the new Web focus will leave the most vulnerable Picayune readers behind.
---