Same-sex weddings in Washington State: Breakthrough for gay marriage?
On Election Day, voters in Maine, Maryland, and Washington State approved same-sex marriage – the first time such unions had been approved by popular vote. Same-sex marriage licenses in Washington were issued for the first time Thursday.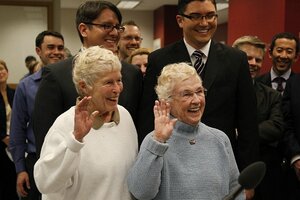 Elaine Thompson/AP
For the first time, same-sex couples now are allowed to marry in their state as the result of a popular vote legally authorizing such unions. Until now, those few states where gay marriages can occur took that step as the result of legislation or court cases based on discrimination.
But in Washington State Wednesday night, hundreds of same-sex couples lined up to apply for marriage licenses – some having waited for decades, all in celebration of the state's new law approved by voters in last month's election.
Thursday was the first day such licenses were to be issued. By noon, nearly 400 licenses had been issued in Seattle.
"We waited a long time. We've been together 35 years, never thinking we'd get a legal marriage," Pete-e Petersen, who with her partner Jane Abbott Lighty, were the first to get a license in Seattle, told the Associated Press. "Now I feel so joyous I can't hardly stand it."
Voters in Maine and Maryland approved such measures as well, and Minnesota voters shot down a proposed constitutional amendment that would have defined marriage as solely between a man and a woman.
Those elections were an important shift given that all previous ballot measures – 31 in all – amended state constitutions to prohibit same-sex marriage. Polls indicate that public opinion is moving steadily in that direction.
In 2008, a Quinnipiac University poll showed most Americans opposed to same-sex marriage by a wide margin (55 to 36 percent). By this year, the numbers had shifted dramatically, with a plurality (48 to 46 percent) now backing gay marriage, Quinnipiac reported this week.
There's a clear gender gap here, although both men and women are moving in the direction of approval.
---