Chicago Muslims aim to reclaim meaning of 'jihad' from extremists
New ad campaign on Chicago buses, launched Friday, aims to raise awareness of how most Muslims experience 'jihad' – as personal struggle, not 'holy war.'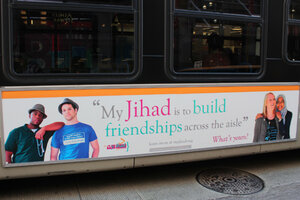 CAIR-Chicago
An Islamic American advocacy group is trying to reclaim the word "jihad," one city bus at a time.
Starting Friday, 25 Chicago buses will carry exterior signs that promote a more positive interpretation of jihad, as expressed by moderate Muslims who say the term has been widely misrepresented by both Muslim extremists and anti-Muslim critics.
"We are taking ownership of our faith and taking it back from Muslim and anti-Muslim extremists, which both have hijacked the conversation, one through bloody actions and the other with extreme rhetoric," says Ahmed Rehab, executive director of the Chicago chapter of the Council on American-Islamic Relations (CAIR).
The ads feature photographs of young Muslims alongside personal testimonials – "My Jihad is to stay fit, despite my busy schedule," "My Jihad is to not judge people by their cover," "My Jihad is to march on despite losing my son," and "My Jihad is to build friendships across the aisle" – that positions the meaning of jihad as a personal, internal struggle and not a "holy war," an interpretation that is widely used by terrorists and related media coverage.
The statements were culled from a social media experiment Mr. Rehab created about two months ago, after asking his Facebook followers about how jihad personally related to their lives. When answers started posting on his page, he then created a hashtag on Twitter (#MyJihad) and asked his followers to submit their answers there.
---