Gun owner map ricochet: Blogger publishes journalists' personal data
A newspaper published names and addresses of thousands of legal handgun owners, generating widespread criticism. In retaliation, a blogger mapped the names and addresses of the journalists.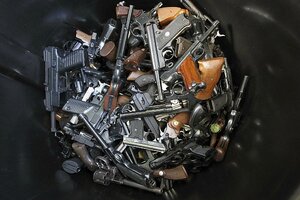 David McNew/REUTERS
The flap over the newspaper that published information about handgun owners in two New York counties has ricocheted back toward the news organization.
Thousands of critics – including some journalism professionals – have weighed in. And at least one blogger has retaliated by publishing the names and addresses of editors and executives at the Journal News, the publication headquartered in White Plains, N.Y., north of New York City and part of the Gannett organization.
Still, the Journal News is not backing down. Editors say they'll publish information on handgun owners in a third county (Putnam) once county officials have responded to the Freedom of Information Act (FOIA) request that resulted in tens of thousands of names and addresses in Westchester and Rockland Counties.
The controversy began over the weekend when the Journal News ran a story on some 44,000 registered handgun owners in the two counties, including names and addresses showing exactly where those gun owners live using Google Maps. "The gun owner next door: What you don't know about the weapons in your neighborhood," read the headline.
In the wake of the Newtown, Conn., school massacre that killed 20 first-graders and six school employees, quickly followed by a raging debate over gun control and Second Amendment rights, it's not surprising that journalists would look for fresh and provocative angles to cover the story.
---