Chicago registers its 500th homicide of 2012 – the highest number since 2008
Public-housing and school policies, gang activity, access to guns, and budget cuts for social programs have all been cited as factors in Chicago's homicide rate.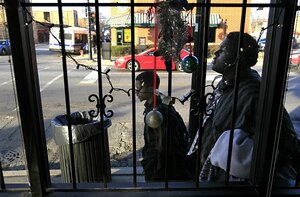 Charles Rex Arbogast/AP
Rahm Emanuel's first full year as Chicago mayor ends on a tragic note: The city marked its 500th homicide Thursday evening, making 2012 the deadliest year in the city since 2008.
Overall, Chicago homicides are at a historic low compared to decades past – 928 in 1991, for example. But the last time Chicago homicides topped 500 was in 2008, when the number was 513. After that, murders had been falling. In 2011, there were 433 homicides.
Why homicide rates trend up or down is not easily explained by a single year, and it most certainly requires examining a series of complex factors including systemic unemployment, economic disenfranchisement, easy access to weapons, and – specifically in Chicago – the dismantling of public housing that started two decades ago and has coincided with the closings of public schools in distressed neighborhoods.
"The public-housing and school policies did a lot to undermine the fabric of marginalized communities on the South and West Sides of Chicago. That unraveling of the fabric continues to drive the desperation, the depression, the self-medication that contributes to a lot of this violence," says Lance Williams, assistant director of the Jacob C. Carruthers Center for Inner City Studies at Northeastern Illinois University in Chicago.
School closings in impoverished neighborhoods and the increased push for privately operated charter schools became a major issue of contention during the public-teacher strike in September. The Emanuel administration has long said that while facing a ballooning budget deficit, it can't afford to operate so many schools, especially those where student populations are dwindling.
---