'Fiscal cliff' no more? Americans vote to banish the term, at least.
'Fiscal cliff,' 'spoiler alert,' and 'boneless wings' all made a list of overused terms and phrases that is compiled annually by Lake Superior State University.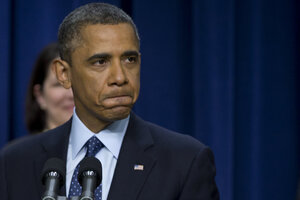 Carolyn Kaster/AP
As we ring in a new year, it might be a good time to ring out some tired old words and phrases.
That's the theory behind the new "List of words to be banished from the queen's English for misuse, overuse and general uselessness," which a Midwestern university issues each year in an effort to dispense with some of the worst verbal clutter.
Topping the 38th annual list is "fiscal cliff," the phrase that Americans nominated, more than any other this year, to be nixed from our everyday vocabulary. Are you listening, Congress?
Rounding out the list are 11 other coinages, in this order:
2. Kick the can down the road
3. Double down
4. Job creators/job creation
5. Passion/passionate (as in the way a business claims to feel about the service it delivers)
6. YOLO (short for "you only live once")
7. Spoiler alert
8. Bucket list ("It's such a grim way of looking at 'what I want to do,' and often it is in selfish terms," wrote nominator Shea Hoffmitz of Hamilton, Ontario.)
9. Trending
10. Superfood
11. Boneless wings ("Can we just call them chicken (pieces)?" wrote John McNamara of Lansing, Mich.)
12. Guru ("Unless you're teaching transcendental meditation, Hinduism or Buddhism ...," wrote Mitch Devine of Rancho Santa Margarita, Calif.)
The problem, of course, is that just saying certain words should be expunged doesn't mean they will be.
As people complain about hearing "fiscal cliff" and related budget jargon too often, it's worth noting that "deficit reduction plan" made the banished-word list back in 1991, and "sequestration" in 1987. Those will probably continue to surface in the language whenever budget pressures are the big topic in politics.
---