Boy Scouts delay decision on gay membership, citing 'complexity'
First there was the backlash to the Boy Scouts of America membership policy that prohibited openly gay scouts or troop leaders. Then came the backlash to the backlash, from conservative groups. Now the Boy Scouts have called a timeout.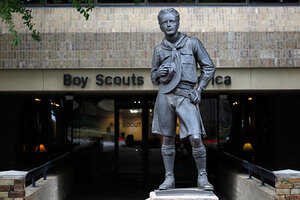 Tim Sharp/Reuters
The Boy Scouts of America (BSA) decision Wednesday to push back a vote on whether to admit gays in Scouting, either as adult leaders or as troop members, guarantees that the organization will remain in the cross hairs of the culture wars for at least another three months – and indicates that advocates and opponents of gays in Scouting have wrestled to a tie in the matchup so far.
But conservative and faith-based groups that opposed changing the no-admittance policy had to be heartened by the postponement, given that the BSA executive board had been expected to lift the national ban and let local chapters decide for themselves what their policy toward gays would be. In recent days and weeks, these groups had argued that the BSA was caving in to the demands of liberal activists and pressure from corporate sponsors.
Wednesday's action by the BSA executive board delays any decision until May, when "the approximately 1,400 voting members of the national council will take action on the resolution at the national meeting," the BSA said in its statement. Between now and then, the group will solicit further input from "representatives of Scouting's membership" and draft a resolution on "membership standards."
"Due to the complexity of this issue, the organization needs time for a more deliberate review of its membership policy," the group said.
The backlash to a possible change on the no-gays policy came in large part from within the Scouting ranks. About 70 percent of local Scouting chapters are operated by faith-based groups, namely the Church of Jesus Christ of Latter-day Saints (the Mormons) with 38,000 chapters, followed by the United Methodists at 11,000 chapters and the Roman Catholic Church at 8,570. Some had warned that if the BSA lifted the national ban, the Boy Scouts would lose millions of dollars because most faith-based chapters would simply band with competing, but lesser-known, scouting organizations such as Navigators USA and the Baden-Powell Service Association.
---