In US, big strides in reducing domestic violence
The rate of partner-to-partner violence dropped 64 percent between 1994 and 2010, a Justice Department report has found. The trend, almost unnoticed, stems from a broad shift in attitude toward domestic violence.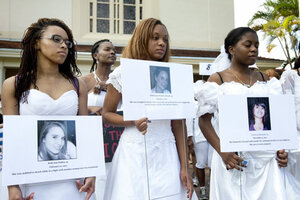 J Pat Carter/AP
A bruised cheek. A broken bone. Verbal battering. A window shattered in an effort to intimidate. The rate of such violence or abuse between husband and wife – or any two intimate partners – has been on the wane in America, falling by a stunning 64 percent between 1994 and 2010.
That finding, from a recent report by the US Department of Justice on intimate partner violence (IPV), parallels the overall drop in violent crime during that period. Many in the field cite a broad shift in attitudes that began in the 1980s and '90s, crediting public awareness campaigns, national legislation protecting victims, and subsequent training of police and prosecutors to recognize intimate partner violence as a crime, rather than as a private matter.
"There has been an enormous shift in public awareness about domestic violence – the message [to victims] being you are not alone and you can report what is happening to you to law enforcement," says law professor Suzanne Goldberg, director of Columbia University's Center for Gender and Sexuality Law. The message to perpetrators, meanwhile, is that violence against an intimate partner "is not a badge of manhood," she adds.
But even as they celebrate the progress, most analysts warn that more needs to be done to prevent such abuse, which encompasses recurring verbal, physical, psychological, and sexual mistreatment between partners of all ages and sexual orientations. Not enough analysis has been done to know the precise cause of the decrease, says Janet Lauritsen, professor of criminology and criminal justice at the University of Missouri - St. Louis. Moreover, IPV rates have been stabilizing since 2001, a sign that it's not time to rest easy.
---