Gun control: Future hangs on misunderstood majority of gun owners
Gun control seen through the eyes of the misunderstood majority of gun owners is more nuanced and complex than the absolutism of America's big gun lobbies. The Obama administration is courting this breed of centrist, gun-friendly Americans on the fence about gun control.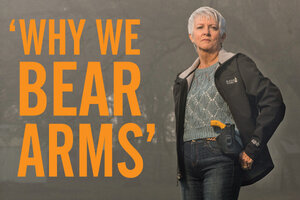 Joseph Gamble/ Special to The Christian Science Monitor
Nick Brinley was totally conspicuous the other day as he walked onto the State Capitol steps here armed with a loaded AR-15 – the very same make of short-barreled military-style rifle used by Adam Lanza to murder his mom, 20 grade-schoolers, and six Sandy Hook Elementary School staff members on Dec. 14, in Connecticut.
Instead of menacing the public, though, Mr. Brinley joined about 350 other gun enthusiasts waving signs saying things such as "Don't mess with the Constitution, it ain't right – [signed] Me" to protest a post-Sandy Hook gun-control package being floated in Congress, and backed by President Obama.
"If you want to see a place where nothing's going to happen, this is it – no one's getting shot here today," said Brinley in the curt tone of a Hollywood action hero.
But as Brinley leaned self-confidently against a railing as though a backpack, not a deadly firearm, were slung across his back, it also became clear that his gun stance contains more nuance and complexity than the absolutism of America's big gun lobbies, the National Rifle Association (NRA) and Gun Owners of America, which Ron Paul once called "the only no-compromise gun lobby in Washington."
---