Americans cut back on fast food, but why?
American adults got 11 percent of their daily calories from fast food in 2010, down from about 13 percent four years earlier, a new study shows. Public education may have played a role, but so have pocketbook issues.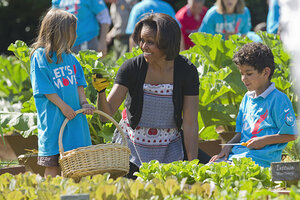 Evan Vucci/AP/File
Whether it's the economy, public education about fast food, or first lady Michelle Obama's Let's Move campaign, Americans appear to be cutting back on fast food.
American adults are consuming about 11 percent of their daily calories from fast food in 2010, down from almost 13 percent in 2006, according to a new report from the Centers for Disease Control and Prevention (CDC). While overall caloric intake has not changed for American adults, the drop in fast food consumption has coincided with a leveling of obesity rates among adults.
"The drop is significant, statistically," says one of the study's lead authors, Cheryl Fryar, a health statistician with the National Center for Health Statistics, part of the CDC. "Historically a lot of fast food has been high in fat, high in sodium … and frequent fast food consumption is linked to weight gain."
A separate report from the CDC found more good news among youths: American children and adolescents consumed fewer calories in 2010 than they did a decade before, the first decline in caloric intake among children in more than 40 years.
Americans have long had a troubled relationship with diet and weight – two-thirds of American adults are considered overweight or obese, and about 17 percent of youths are considered obese – and the CDC's reports offered hope to many in the nutrition and health fields.
"It's a trend in the right direction," says Marion Nestle, a professor of nutrition, food studies, and public health at New York University. "That's good news. This is a cause for mild celebration."
---