NBC and 'SNL' targeted over Jesus skit. Do such ad boycotts work?
Sears is taking steps to keep its ads off online rebroadcasts of the 'Saturday Night Live' skit, after a conservative Christian group complained. Such ad boycotts do have effects, say media analysts – but not usually the intended one.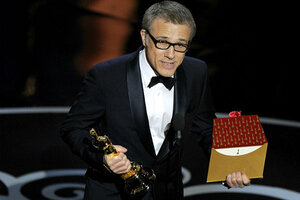 Chris Pizzello/Invision/AP
Austrian actor Christoph Waltz may have just won an Oscar, but his recent performance on NBC's "Saturday Night Live" is drawing boos from conservative Christians. In an SNL skit, a mock movie trailer, he portrays Jesus as a bloodthirsty killer bent on revenge against Roman soldiers.
The skit, which aired Feb. 16, prompted Mississippi-based American Family Association to urge major retailers – Sears, JCPenney, and Kmart, among others – to pull their ads from NBC in protest of what the group calls "blasphemy." This week, Sears pulled its ads from the online rebroadcast of the original "SNL" show.
"We informed customers that it wasn't supposed to happen, and while going forward we may advertise on the broadcast, we've taken steps to ensure that our commercials do not air online exactly as they did in this situation," Sears said in an e-mail to the Monitor.
---