How one church is helping heal Newtown
Members of the Newtown United Methodist Church have turned to faith – and each other – to surmount a mass shooting.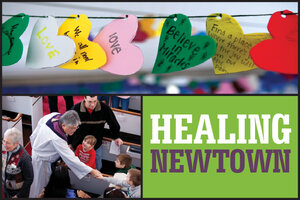 Melanie Stetson Freeman/The Christian Science Monitor
As soon as Barbara Sibley entered the long driveway of Sandy Hook Elementary School shortly after 9:30 a.m. on Friday, Dec. 14, 2012, she noticed something seemed wrong. Children were outside, running, yelling, and waving their arms as if to signal her. She wondered where their teacher was and drove on to deliver the book her third-grade son, Daniel, had forgotten at home.
She parked and found more strangeness: an eerily quiet building, a shattered window, and an old hatchback car parked in front of the school with all the doors left open. Then she heard a series of staccato "pop pops" that sounded like roof construction. Suddenly, she and another mother who was there realized what it was – gunshots.
"The gunfire started again, and it was just relentless," Ms. Sibley recalls. "It was right there. We just ran."
They clasped hands and crouched behind a dumpster. Unsure whether Daniel was alive or dead, she frantically called her mother, then her husband, Rob.
"I'm on my way," he said. A volunteer firefighter and town employee, Rob Sibley was among the first on the scene, and one of those to be assigned a life-altering task. But first he found Barbara. They embraced. Then, he put on his gear.
State police had secured the building and were asking emergency medical technicians to see if anyone was still alive in what by now had become clear was a horrific mass shooting. As an EMT, Rob was trained for such a gruesome task. But he needed reinforcement. He called his father, Robert Sibley.
"He basically said, 'I don't know if I can do this,' " recalls the elder Sibley, a retired police officer. "I said, 'Rob, you have to. You're a trained professional. You're an EMT. You have to and you can. Trust me.' "
---