Not happy, Iran, with a Hollywood movie? Argo make your own.
Iran was not pleased with Ben Affleck's Oscar-winning 'Argo,' so it is planning its own take on the diplomat rescue drama. Political retaliation through moviemaking is an established practice.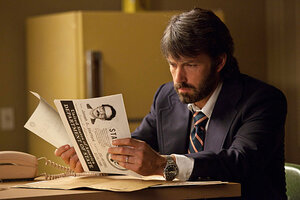 Courtesy of Claire Folger/Warner Bros Entertainment/Reuters
The Best Picture Oscar-winning "Argo" has so piqued the Iranian government that not only does it plan to sue (whom, where, and how TBD), it is planning to tackle Hollywood on its home turf.
The Iranian Art Bureau has announced it will fund a movie of its own entitled "The General Staff" about how six American diplomats were spirited to safety during the 1979 Iranian revolution.
It might even appear at a movie theater near you.
Political retaliation through moviemaking, however, is hardly a new phenomenon, note movie experts, who say the fact that Iran has moved from issuing fatwas to producing films in response to what it considers offensive works of art speaks to the power of movies as political props.
"Movies have always been political," says Prof. Lester Friedman, chairman of the media and society department at Hobart and William Smith Colleges in Geneva, N.Y. Nations as well as individuals have long used the power of film to persuade both at home and abroad, he says.
An Iranian version of "Argo" is not likely to play much outside the home country, he points out, but adds, "this is part of the point," namely, to counter outside influences and control the narrative for your own constituency.
This was certainly the case in the Soviet Union in 1982 in the aftermath of the Oscar-nominated "Reds," director and star Warren Beatty's take on radical writer John Reed during the Russian revolution.
---