Gay marriage: Prop. 8 seems a relic of different era in California
California voters approved Prop. 8, which bans gay marriage, in 2008. Between then and today, when the US Supreme Court takes up Prop. 8's constitutionality, the social landscape has changed.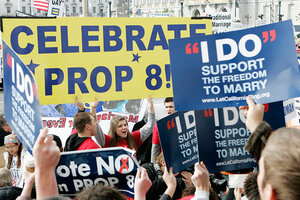 Marcio Jose Sanchez/AP
When the United States Supreme Court hears arguments Tuesday morning about Proposition 8, the California ballot initiative that banned gay marriage in the state, legal experts will analyze every comment and gesture to learn what the justices think of the law. In California, by contrast, what residents think of the law is hardly mystery.
Little more than four years after Californians approved the ban, their attitudes toward gay marriage have shifted dramatically. In 2008, the inititiave passed with 52 percent of the vote. Today, some 61 percent of California voters approve of allowing same-sex couples to marry – with only 32 percent opposed.
In many ways, the forces reshaping Californians' opinions of gay marriage are the same as those that have driven similar shifts in states nationwide. As homosexuality becomes more accepted and open, more people report having gay friends or family, which has removed many former objections.
But activists say Prop. 8 itself created a backlash that only accelerated Californians' willingness to take a fresh look at gay rights. And Hollywood, California's most famous industry, has taken a leading role in breaking down stereotypes and fears.
"We are all simply more comfortable with gays in our midst," says Barbara O'Connor, director emeritus of the Institute for Study of Politics and Media at California State University, Sacramento. "Everyone has a gay friend or their children do, and so this fear that they are just awful has been allayed. And therein lies the change."
Research from Williams Institute states that there are approximately 581,300 same-sex couples in the United States, including 50,000 to 80,000 legally married same-sex spouses and another 85,000 who are in civil unions or registered domestic partnerships. Approximately 20 percent of same-sex couples are raising nearly 250,000 children.
---