End of 'illegal' immigrants? AP change mirrors public shift, some say.
AP will no longer use the phrase 'illegal immigrant.' The AP stylebook has significant influence in the media world, meaning the change is about more than just semantics.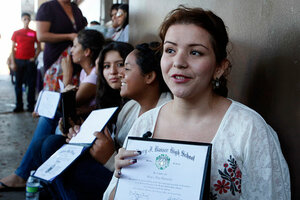 Nick Ut/AP/File
The move by the Associated Press this week to drop the term "illegal immigrant" from its influential stylebook has caused a ruckus in the debate over immigration in the US.
Advocates who have long pushed for a change in labels have praised the decision. But others, including fellow journalists as well as government figures, are deeply divided over the push to adopt new terminology, dubbing it everything from political correctness run amok to obfuscation of illegal behavior.
Whatever the stance, this decision is a good measure of where the debate is headed, says David Mark, editor-in-chief of the online political site, Politix. "The AP is very influential and is read by millions and is a good reflection of public opinion and mores when it comes to thorny issues it covers."
The language used to frame hot-button issues is frequently hammered out in the media, he adds.
"You can see this in everything from race relations to abortion," he says. "This move by such a large media organization is an indication that the pro-amnesty forces are slowly winning the immigration debate, no matter what some conservatives may say."
Major news outlets such as The New York Times and The Washington Post have issued statements this week showing that they are willing to take the question seriously.
The Times's public editor, Margaret Sullivan, blogged Tuesday that earlier in her career she had supported the term "illegal immigrant" but had changed her opinion in recent months. Although she has no role in making the final decision, she expects the Times to issue new guidelines as early as this week.
---