After Boston bombing, swift help, comfort, and a resolve to keep running
The rush to help those injured at the Boston marathon was just the start of an outpouring of help and support for Boston, its visitors and residents, including from arch sports rival New York.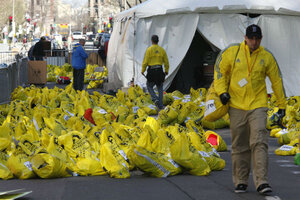 Melanie Stetson Freeman/The Christian Science Monitor
The very explosions that brought horrific tragedy to Monday's Boston Marathon also brought out a powerful response of human strength and compassion that swept well beyond Boston.
First, there was the rush to aid those injured or in shock. Then there was a digital outpouring of support: offered hotel rooms, reaching out to check on the safety of family members and friends, and tweets of solidarity.
An upwelling of caring and comfort after the attack was symbolized by practical actions, from prayers and vigils to efforts to raise money for the family of Martin Richard, an 8-year-old boy who died in the bombing.
It was also symbolized by simply resolving to run, walk, or live on.
"For anyone who did not get to finish, For anyone who was injured, and for anyone who lost their life ... we will walk," said a group of Boston College students, who mobilized online.
Similar voices arose from across the nation.
"If you're a runner, the next 26.2 [miles] aren't about race prep, monthly mileage or self. It's about our brothers and sisters, the ones we don't know but share a bond with," blogged John Mulholland, a pastor of family ministries from Naperville, Ill. "Run it in 1 day, 1 week or 1 month. Just run."
His blog site on Tuesday afternoon said some 4,000 people are committed to the "#RunforBoston" idea.
"The American people refuse to be terrorized," President Obama said in a statement televised Tuesday morning. "What the world saw yesterday in the aftermath of the explosions were stories of heroism and kindness, and generosity and love."
---