Boston bombing: US Muslims react with fear, frustration, and new resolve
While Muslim Americans have condemned the Boston bombing, there's also been frustration with the perceived need to explain and apologize for the suspects. Some are emphasizing increased engagement by mosques.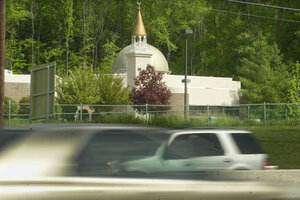 Daniel Hulshizer/AP/File
When the bombs at the Boston Marathon exploded a week ago Monday, a familiar chain of events and emotions unfolded for many in the American Muslim community: shock and grief, followed by an unspoken dread that the perpetrators could be Muslim; condemnation of the attack; fear of reprisals – and of being conflated with the acts of violence; and quietly, an inward examination of what went wrong.
It is a routine that Muslim communities in America know all too well – having trodden the same path after 9/11, the Fort Hood shootings, and other acts of violence associated with Islam. But it's a routine they've become increasingly weary of, frustrated that each violent act erases years of painstaking work building trust and becoming part of American civil society.
"We strive every day to be positive, useful and energetic contributors to our society, but all it takes is the acts of a couple of deranged murderers to ruin the reputation of 7 million people," says Asad Ba-Yunus, a lawyer in Peekskill, N.Y., and a community activist, in an e-mail.
"This will put Islamophobia on steroids," fears Muqtedar Khan, an associate professor of political science and international relations at the University of Delaware in Newark.
It is, in effect, a fight on American soil for the right to define Islam – with each bomb, shooting, and terrorist plot setting back the efforts of American Muslims to define themselves and to reclaim an embattled faith.
---