Virginia State student deaths renew debate over hazing abuse
The apparent drowning deaths of two Virginia State University freshmen are refocusing attention on the role of college and university officials in curbing a culture of hazing and abuse on campus.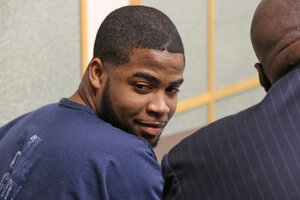 Red Huber/Orlando Sentinel/AP
The apparent hazing death of two Virginia State University (VSU) students has renewed the debate over universities' responsibility to combat hazing abuse.
In Virginia's Chesterfield County, police have charged four men, including two VSU students, with hazing after two students drowned in the Appomattox River on April 20 as part of an initiation rite for the social club Men of Honor, which is not a school-sanctioned group. One suspect is still at large.
Seven VSU students reportedly tried to use a "human chain" to cross the rushing rapids of the rain-swollen Appomattox River around midnight Sunday. A witness told local NBC affiliate WAVY that the water level rose to their chests, and the current swept away freshmen Marvell Edmondson and Jauwan Holmes. The evening was reportedly the culmination of a week-long pledging and hazing process for the group. Police recovered Mr. Edmondson's body on Monday and are still looking for Mr. Holmes.
Historically black colleges and universities like VSU have struggled with a long tradition of hazing centered on physical abuse. But recent tragedies, including the November 2011 death of Robert Champion, a drum major in Florida A&M University's celebrated marching band, have brought national attention to the issue, ratcheting up pressure for schools to take stronger action to discourage the practice.
---