Poll shows how US Muslims are like Protestants – and how they're not
A worldwide Pew poll of Muslims charts opinions on issues from women's rights to which religion is the one true faith, and details how US Muslims fit into the American matrix.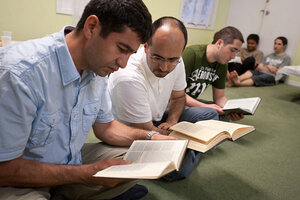 Ann Hermes/The Christian Science Monitor/File
Compared to Muslims worldwide, adherents of Islam in the United States are more likely to have close friends who are non-Muslim. They are far more likely to say that believers in many religions can attain heaven. They are considerably less likely to view suicide bombing as acceptable.
Those are some of the results from a major global poll of Muslims in 39 countries, released Tuesday by the Pew Forum on Religion and Public Life.
The survey's release comes, coincidentally, in the same month America was shaken by Boston Marathon bomb attacks, which focused the nation on the risk of domestic Islamic terrorism. The two suspects named in the case by investigators so far, Tamerlan and Dzhokhar Tsarnaev, are Muslims of Chechen heritage who had lived in the US for a decade.
While the Tsarnaev brothers appear to have been drawn toward the ideology of violent jihad in defense of Islam, according to emerging evidence, the Pew survey paints a broader portrait of Muslims worldwide – finding, for instance, that a large majority of the world's 1.6 billion adherents of Islam disapprove of such attacks against civilians.
The poll also puts in sharp relief how varied the views are from country to country, within a religion that encompasses about one-fourth of the global population. (The survey itself was a gargantuan effort spanning five years – through 2012 – with 38,000 face-to-face interviews in 80-plus languages.)
---