Boy Scouts: Will anti-gay troops emerge?
Religious leaders are suggesting that religious Boy Scouts leave the organization after its leadership voted to welcome gay boys. Others aren't so sure that the status quo will change.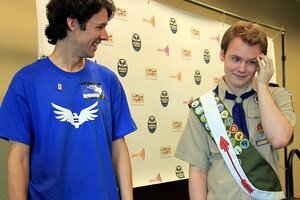 Brad Loper/The Dallas Morning News/AP
The decision by the Boy Scouts of America to stop seeing homosexuality as a moral failing and accept gay boys raises an important question for troops from Sheboygan to Atlanta: Will Cub Scouts and Eagle Scouts exodus en masse, and, if so, to where?
The wrenched decision by an organization founded in 1910 on quasi-military and Christian values came after months of debate and member polling, and the final vote looked much like America's general feeling on gay rights: Sixty percent supported the decision, which does not extend to gay adults. But the minority 40 percent may have stronger feelings, fueling a potential search for a new "character" organization for boys.
That debate had already begun this weekend in places like northern Virginia, where the Arlington Catholic Diocese is "prayerfully considering" leaving the Boy Scouts, as Bishop Paul Loverde told The Washington Post.
Boy Scout troops are sponsored by third-party groups, the majority of which are churches. About 110 million Americans have been Boy Scouts since the organization was founded as part of the international Scout movement. In the 1980s, the organization went through a series of sex abuse scandals, and last year it was forced to release 20,000 pages of internal documentation of some 1,200 sex abuse cases that took place between 1965 and 1985.
That background explains in large part why the Boy Scouts of America has struggled to repair its image, and why the organization voted to continue excluding gay leaders.
But that concession isn't enough for some critics of the decision, including some in Baptist churches, which sponsor more than 100,000 of the Boy Scouts' current 2.6 million members.
"Frankly, I can't imagine a Southern Baptist pastor who would continue to allow his church to sponsor a Boy Scout troop under these new rules," Richard Land, a senior Southern Baptist Conference official, said Friday in an interview with the Baptist Press, the Southern Baptist Convention's news agency.
The Assemblies of God says that its own Royal Rangers youth group could be a "positive alternative" to the Boy Scouts under the new rule. The Royal Rangers, which have a similar skill-testing program as the Boy Scouts, has a stated purpose to "evangelize, equip and empower the next generation of Christlike men and lifelong servant leaders."
---