Immigration: Assimilation and the measure of an American
Immigration reform, making its way through Congress, and the Boston Marathon bombings – allegedly committed by two Chechen immigrants – has raised heated debate about how we measure the assimilation of newcomers civically, culturally, economically, and even patriotically.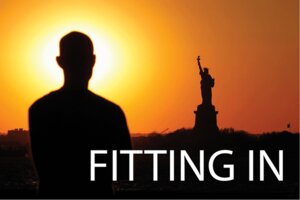 Gary Hershorn/Reuters
If there were such a thing as a classic American immigrant story, it might sound something like the one Arlene tells of her family.
Her immigrant parents each arrived in New York City poor but eager, searching for a better way of life. They found work – and each other – in the garment district; they married, had children, and sent their girls to parochial school where nuns taught proper English.
Arlene's parents told her and her sister that here, in the United States of America, they could do anything. So the girls went to college, became professionals, married, and had children of their own – English-speaking children who would never consider themselves anything but American.
It is a familiar, almost nostalgic, narrative; one that evokes sepia-toned photos of Ellis Island, Little Italy boccie players, German grandmas, or Eastern European deli proprietors.
But there is a twist.
Arlene's last name is Garcia. Her parents came from the Caribbean, not Europe. Today she lives in Lawrence, Mass., a city north of Boston that is more than 73 percent Hispanic. She is fluent in Spanish and English, switching seamlessly one recent morning at work answering the phone at Esperanza Academy, a tuition-free, private school for low-income girls. She is married to a Dominican man (albeit one whose name – Johnny Mackenzie – is far more gringo than hers) and returns regularly to the Dominican Republic (although these days she far prefers the Punta Cana resort area to the villages of her ancestors).
---