Mental health in the US: New ideas on care emerge
Mass shootings by mentally unstable people have focused attention on the inadequacies of the US mental health care system, in which less than half of the seriously ill can get treatment.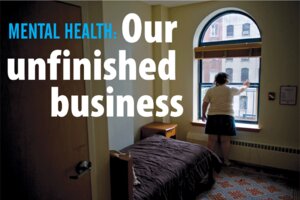 Ann Hermes/The Christian Science Monitor
Patti Sacher's daughter, Lisa, was 19 when she first started to show signs of mental illness.
"It was like getting hit from behind by a Mack truck," says Ms. Sacher, when Lisa, a bubbly, lighthearted college sophomore living in Madison, Wis., started to talk about hearing voices, showing signs of paranoia, and using drugs. Police, on one occasion, even had to drag her out of the middle of a busy street where she stood screaming at tormenters seen only by her.
When Lisa dropped out of school, Sacher and her husband acted on their feelings of love and responsibility for their daughter and tried to bring her home for treatment. But Lisa resisted, and they found out they had no authority to compel the school or anyone else to help: Lisa was no longer a minor. That helpless realization was just the beginning of a 17-year effort to help her.
Though they did eventually bring her home, Lisa (a pseudonym her mother uses) refused most treatment for her diagnosis of schizophrenia and would stop taking the medication prescribed for her because she didn't like the side effects and didn't think she needed it. She went to three residential treatment programs, but ran away each time. Her mother managed at least half a dozen times to get Lisa hospitalized, but the short stints did little good – she inevitably ended up endangering herself.
"I used to think it was only bad parents who had kids who ended up like that," says Sacher, who now volunteers for the New York City chapter of the National Alliance on Mental Illness, teaching a "family-to-family" class for those struggling with the same issues she has.
---