Father or sperm donor? Jason Patric's custody plea prompts California hearing.
'Lost Boys' actor Jason Patric, who lost a battle for custody of a son conceived using in vitro fertilization, urges California lawmakers to change the law to afford such men greater consideration in court. Many women's rights groups are skeptical.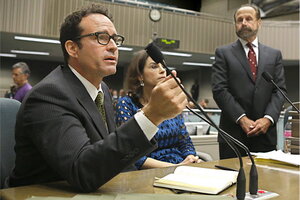 Rich Pedroncelli/AP
Amid pleas by "Lost Boys" actor Jason Patric and other sperm donors to receive the greater legal rights afforded to fathers, California lawmakers on Tuesday began wrestling with this sensitive issue: Who can claim fatherhood of a child conceived in a lab, and under what circumstances?
Mr. Patric – whose ex-girlfriend last year won custody of a son, now 3, conceived through in vitro fertilization – spoke at a hearing where state lawmakers are considering a bill that would give judges in child-custody cases greater latitude to take into account the interests of the men involved.
Whether and how much to adjust the balance of maternal and paternal rights is a longtime question, made more complicated by modern advances in reproductive medicine that allow for "test tube babies," pregnancies through surrogates, and other innovations. The stakes are high for the men and women involved, but also for the children growing up in a society in which lineage can be confusing, if not outright mysterious, say some family studies experts.
"We're at an unusual point for families in general," says Randal Day, a family studies professor at Brigham Young University, in Salt Lake City. "We're racing ahead at a breakneck pace of change without really knowing how it's going to affect us down the road."
Patric is currently appealing a judge's decision that gave full custody of Gus, his son with Danielle Schreiber, to the boy's mother, in large part because the pair had no written agreement as to the parental arrangement. Patric assumed he would stay involved with the boy; Ms. Schreiber said that was never part of the deal.
Either way, Patric was involved in the boy's life until Schreiber decided to fight for sole custody. Turned aside by the courts, the actor appealed to the California legislature to address what he sees as a parental injustice and institutional prejudice against men.
---