March on Washington: Why is Martin Luther King Jr.'s 'dream' only half-realized?
March on Washington: An event to commemorate the 50th anniversary of the 1963 March on Washington and Martin Luther King Jr.'s 'I have a dream speech' was held at the Lincoln Memorial Saturday. How much racial progress has been made since Dr. King's speech?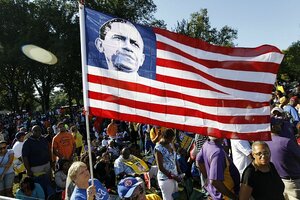 Jose Luis Magana/AP
The span between Martin Luther King, Jr.'s rousing and critical "I have a dream" speech to a packed, diverse throng at Abe Lincoln's feet 50 years ago and the ascension of Barack Obama as the nation's first black president highlights both Dr. King's greatest aspirations and an acknowledgement that his dream has stalled, only half-realized.
The speech on the mall in 1963 was a spiritual, rousing critique, out of which came a unifying national clarity of what the late Atlanta Journal-Constitution editor Ralph McGill called "the firmness of truth" which, in turn, led to the difficult concession that separate and unequal, despite tradition and culture, had to be forcibly challenged and modified through federal legislation and enforcement.
Out of the long aftermath of the dream speech, however, has emerged a paradox: The rise of racial equality to a point where the Supreme Court this summer said the Voting Rights Act has become an anachronism that has not ended social and cultural segregation – the stubbornness of which keeps the races, and classes, at least to a degree, apart, and strangers. Instead of MLK's dream of a "beautiful symphony of brotherhood," blacks and whites still occasionally strike jangled chords.
It is an open question as to whether President Obama has helped or hurt race relations in the US or the extent to which he has proven that the black man is no longer "an exile in his own land," as King put it in his speech.
His election proved America had moved beyond hardened racial judgments, and since his election Obama has attempted to walk a fine line between honoring black Americans' struggle while trying to give shape to a new debate, which he wrestled with in the wake of the Trayvon Martin shooting and the not guilty verdict of his shooter, George Zimmerman.
In a nod to the mood of the times, Obama's answer was not to appoint a reconciliation commission, but to urge racial reckoning by individual Americans at the dinner table.
---