Face of US poverty: These days, more poor live in suburbs than in cities
The rise in suburban poverty reflects long-term demographic shifts – America is more than ever a suburban nation – as well as economic changes.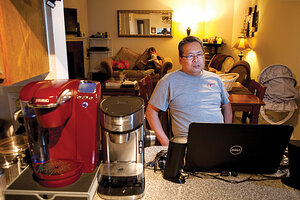 Melanie Stetson Freeman/Staff
Marcus Thomas, a lanky, unemployed construction worker, says he moved out of Roseland, a poor neighborhood on Chicago's South Side, because it had become too dangerous.
"I couldn't walk down the street without someone pulling out a gun on me," he says.
He didn't go far. Mr. Thomas came to this suburb just a few miles away, where on a recent afternoon he pushed one of his three children along the sidewalk in a stroller.
"It's better than the city," he says. "There's not too much violence."
Suburbs are increasingly becoming the address of America's poor. Suburban poverty across the country grew 53 percent between 2000 and 2010, more than twice the rate of urban poverty, according to a recent report by the Brookings Institution. For the first time, more poor people live in the suburbs than in cities.
"I think suburban poverty is here to stay," says Alan Berube, one of the authors. "It's not going to revert back to the cities."
Much of the rise in suburban poverty is due to the impoverishment of working families already living there. The decline in manufacturing, the Great Recession, and widespread foreclosures have left many longtime suburban families reeling.
At the same time, the suburbs have become a destination for poor and low-income people arriving from somewhere else. Some, like Thomas, have abandoned poor urban neighborhoods in hopes of living somewhere better – with safer streets, better schools, and housing that's cheaper than in gentrifying urban areas. And new immigrants, many of them poor, are bypassing the urban neighborhoods where they once settled and heading straight to the suburbs.
By official measures, poverty has risen dramatically in the United States. Between 2000 and 2011, the nation's poor increased from 33.9 million to 46.2 million. As of 2010, 55 percent of the poor in major metropolitan areas were living in the suburbs. Among the "near poor" – those with incomes as much as twice the poverty level – 63 percent were living in the suburbs. (The poverty threshold for a family of four is currently $23,550.)
---