Facebook mystery: How did Rehtaeh Parsons image end up on dating ad?
An image of Rehtaeh Parsons, a Canadian teen who committed suicide in April, appeared in an ad on Facebook for a dating website. Facebook responded quickly, but questions remain.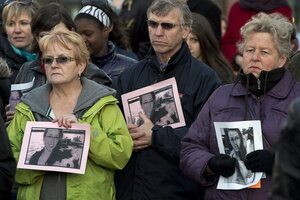 Andrew Vaughan/The Canadian Press/AP/File
Facebook issued an apology for using in an online dating ad the image of a Canadian teenager who committed suicide last spring after what her parents describe as cyberbullying.
A picture of Rehtaeh Parsons appeared in a Facebook "Sponsored Ad" for Ionechat.com, an online dating website, on Tuesday evening.
The ad said "Find Love in Canada! Meet Canadian girls and women for friendship, dating or relationships. Sign up now!" according to a screenshot of the image that appeared yesterday on Twitter.
Facebook said the ad was a "gross violation" of the company's policies, and it has been removed.
"It's our image. It belongs to Rehtaeh's family. Just to lift it off and start using it like that is very thoughtless," said Rehtaeh's father, Glen Canning, in a Wednesday phone interview with the Canadian news publication, thestar.com.
Facebook has since banned Ionechat.com from its website. Lonechat.com's website could not be accessed after repeated attempts Wednesday morning.
"I think banning the Ionechat.com company was the right move to make," said Mr. Canning. "It's hard to say what can be done, but I think Facebook removed it fast, and I appreciate that, and they apologized for it, which is good."
---