New California law targets massive online ticket-scalping scheme
A new California law makes it illegal to use software to trick online ticket-sellers into selling huge numbers of tickets to scalpers, who then resell them at a higher price.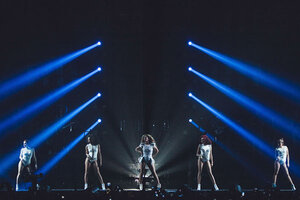 Robin Harper/Invision for Parkwood Entertainment/AP/File
Dean Levin still hasn't gotten over the fact that he missed The Rolling Stone's "50 and Counting" Tour here in May.
"I called Ticketmaster as soon as I heard," says the unemployed actor, standing in line at Starbucks here. "Sold out."
He blames ticket-buying software designed to trick computers into believing that orders are coming from different buyers when they are actually coming from businesses that resell the tickets at other websites for more money.
A furor was set off in Washington in July when three concerts by Beyoncé sold out in 60 seconds.
Now, California is targeting the practice of using software to get around the security of ticket-selling websites. California's AB 329 was signed by Gov. Jerry Brown on Monday and supporters say that the state's population and cultural influence could give anti-scalping forces a significant boost.
"When you have a huge population state like California say, 'We don't want our customers cheated out of good seats,' that sends the biggest message possible to the rest of the country that this will be stopped," says Michael Marion, president of Fans First, a national anti-scalping organization. Noting that many states – including Texas, New Jersey, Minnesota, and Tennessee – have been struggling with such legislation in recent years and others, he says, "This will be a significant turning point in this drive."
A proposed law in the Texas Legislature died in committee earlier this year, but supporters are already gearing up for another try in 2015.
Some of the largest ticket-selling companies in America are delighted with the California law.
---