Why do kids kill? School murders in Sparks, Danvers revive questions
Tragic headlines out of Sparks, Nev., and Danvers, Mass., notwithstanding, the number of juvenile homicide offenders has lately hit a 30-year low. 'Nothing's different about kids' today, says one criminologist.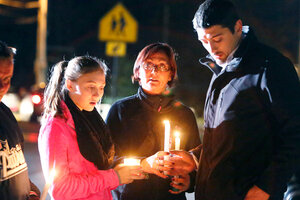 Bizuayehu Tesfaye/AP
The headlines this week have been unavoidable:
•In Massachusetts, 14-year-old Philip Chism sits in jail, charged with murdering Danvers High School teacher Colleen Ritzer and awaiting a grand jury decision about whether he should be tried as an adult.
•In Nevada, a 12-year-old boy is dead by a self-inflicted gunshot wound after killing a teacher and wounding fellow students at Sparks Middle School.
•In California, a boy who was 10 when he shot and killed his abusive neo-Nazi father awaits sentencing as a juvenile.
Each case is different, but collectively they may prompt people to wonder if more young Americans are turning into murderers. What can explain such killings? Can they be prevented? How should young killers be punished or redeemed?
The first question is easiest to answer – with data. Though it's not much comfort to the victims of any particular crime, the number of juvenile homicide offenders in the US recently hit its lowest level in 30 years.
In 2011, there were 808 12- to 17-year-olds known to have committed homicides, down from 1,437 in 1980 and a peak of 2,800 in 1994, according to the FBI's Supplementary Homicide Reports. Homicide by those younger than 12 is rare, with five offenders in 2011 and ranging between 0 and 30 offenders a year over the past 30 years.
"Nearly 20 years ago, we had half a dozen multiple-victim school shootings by students in America … and the same questions were being asked then: What's the matter with kids today?" says James Alan Fox, a criminology professor at Northeastern University in Boston.
"Nothing's different about kids," he says, though 50 years ago, bullied kids might have been more likely to take their anger out through vandalism rather than pick up a gun. Kids today may more often fantasize about shooting up their schools because of "a change in the cultural scripts," he says, but most of them don't actually do it, and killings by kids are not at epidemic proportions.
---