Teen suicide: Prevention is contagious, too.
Teen suicide in the US continues at high rates, but the stories of lives saved often don't make headlines – and prevention experts are encouraged about progress in that direction.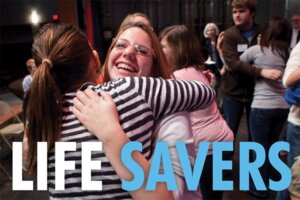 Melanie Stetson Freeman/The Christian Science Monitor
Every day, 10th-grader Bridgett Marsh takes a look at her growing list of "reasons to live." Posted right next to her bed, it's a colorful jumble of names – family, teachers, friends, her cats – and some "really small things, but they matter a lot," she says. "The smell of campfire smoke ... party hats ... climbing trees."
She began writing the list during a five-day stay at a mental-health facility. With the stress of school starting in September last year, the depression she had been feeling got worse, Bridgett says, and she was thinking about suicide. That's when she chose hospitalization.
Since then, she's gotten better, and she continues to see a psychologist monthly. She plays guitar. She writes poetry. She adds to her list a few times a week. With her asymmetrical haircut and bubbly laughter, Bridgett is a typical teenager. What's not typical is how openly she talks about her struggles.
"I've learned how sad it is that people have to hide it, and I don't want to be one of those people," Bridgett says. "Starting talking to one person helps, and the further you talk, the better it gets.... It doesn't embarrass me."
TEST YOURSELF: Do you have a clue about actual teen behavior?
Behind every headline about teen suicide, there's a family tragedy and an even wider ripple effect. Between 1950 and 1990, the teen suicide rate in the United States nearly quadrupled. It declined somewhat through the early 2000s, but it has since plateaued and remains about triple the rate of 1950. For every death, research suggests that many more teens think about or attempt suicide, often in secret.
---