Hand-built bicycles pedal into the mainstream
Everyday bikers saddle up for custom-made frames at Portland's two-wheeled version of the Detroit Auto Show.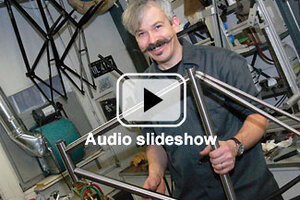 Natalie Conn/Special to The Christian Science Monitor
In the basement of an old shoe factory, a blue glow radiates off hand-operated lathes and antique milling machines decorated with toy planes, plastic T-Rexes, and green-haired dolls. Mike Flanigan, the founder of Alternative Needs Transportation, or A.N.T., cuts tubes of steel, grinds them in a cascade of sparks, and welds together a frame that incorporates old-fashioned European couriers with the whims of modern commuters.
Mr. Flanigan and hundreds of other bike builders have been putting in some late nights for the upcoming North American Handmade Bicycle Show in Portland, Ore. Flanigan has packed four bicycles for the trip: Three display models and a fold-up one fitted in a suitcase for riding around town.
The three-day event is the two-wheeled version of the Detroit Auto Show. Among enthusiasts, it's a meeting ground, an idea lab, and a showcase for the intricate craftsmanship of hand-built bicycles. Wooden fenders, ultralight composite frames, and classic steel racing bikes loom large. And as more builders create custom, hand-built bicycles, there's a fit for every rider – quite literally.
"It started as a niche for the people that were really hard-core into frame building," says Jonathan Maus, who edits the online news site, BikePortland.org. "Then, this show happened and every year, it gets bigger. You've got all the biggest companies in the bike industry that want to show up. The industry would be happening without this show, but it's hard to imagine everyone coming together."
From around the world, torch-wielding workers from mini-assembly lines come out of basements, garages, and industrial buildings to talk shop and ogle the near-perfect expression of human engineering and machinery. Like the bicycles they fit for different customers – each with a unique set of inseams, arm lengths, and flexibility – no two bikes are created equal.
---