Storied college basketball rivalry tilts to Tar Heels – for now
The campuses of North Carolina and Duke University are eight miles apart. But the competition between the two is much closer, even if Tyler Hansbrough's team has surged ahead of late.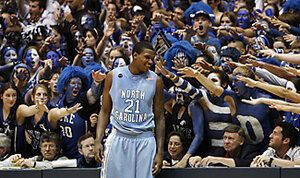 Ellen ozier/reuters
The University of North Carolina's win over Virginia Tech earlier this month at Charlotte Bobcats Arena had a storybook ending, but it was not even the highlight of the day for fans of the basketball powerhouse.
Sure, consensus national player of the year and Tar Heels star Tyler Hansbrough hit the game-winner with 0.8 seconds left, slicing through three players along the baseline to grab a rebound. And, yes, the win propelled North Carolina into the Atlantic Coast Conference finals a day later, where a win over Clemson gave the school a record 17th tournament championship in the 56-year-old event.
Nice as all of that was, the real treat for Tar Heel Nation came two hours later, when bitter rival Duke University and coach Mike Krzyzewski suffered a loss to Clemson in the tournament's other semifinal game.
Duke and its fans took another hit last Saturday when West Virginia bounced them out of the NCAA tournament in a 73-67 upset.
Some of the state's ardent hoops fans might have been salivating at the prospect – however remote – of a Duke-North Carolina meeting in the tourney's final April 8. The storied rivalry between the two campuses has tilted toward the Tar Heels. For now.
---