Minor-league baseball: New Jersey players swing for the bigs
One-time major-league stars now playing in minor-league baseball look for a shot at redemption with New Jersey's Newark Bears.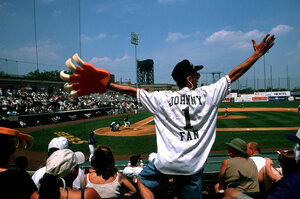 Newscom
Tike Redman, the former outfielder for the Pittsburgh Pirates and Baltimore Orioles, is standing at the ready in shallow center field at Bears & Eagles Riverfront Stadium in Newark, N.J. It's not yet noon, it's only the second inning, and the mid-August sun is beating down on him like a fire hose, soaking his navy blue cap and pinstriped uniform in sweat.
The Passaic River flows just beyond the outfield wall, past the netting that was erected eight years ago to protect the traffic on McCarter Highway from the moonshots José Canseco used to hit here. The river offers no cooling breeze. Ravaged by more than two centuries of industry, the brown waterway rushes by, as oblivious to the 32-year-old's major league dreams as it is to the dolorous landscape downriver.
Ramiro Mendoza, the long reliever from the New York Yankees' late-1990s championship teams, is on the mound, pitching with the same cool, unflappable demeanor that was last seen by a national audience when he was with the Red Sox during the 2004 American League Championship Series.
---