Brandon Tate: Does he help Patriots forget Randy Moss?
Brandon Tate is no Randy Moss. But, with reports of locker room problems, Patriots head coach Bill Belichick may have had no choice but to send Moss away.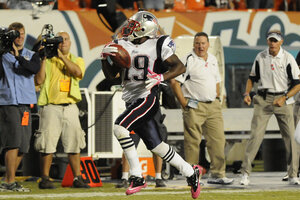 Newscom
Now that Randy Moss is headed to the Minnesota Vikings, where does that leave the Patriots passing attack?
Second-year receiver Brandon Tate will, more than likely, see more playing time with the offense. Other than a pair of touchdowns on kickoff returns, Tate remains untested. Disgruntled Chargers wideout Vincent Jackson is another possibility through a trade, but do the Patriots have enough to offer San Diego?
Yes, Randy Moss causes problems for opposing defenses with his height and speed. But the New England offense has worked best when quarterback Tom Brady gets rid of the football quickly, whether it's a wide receiver screen or quick toss to a slanting tight end. Rookie tight end Aaron Hernandez has become a target for Brady in the passing game this season.
---