Randy Moss cut by Minnesota. Who wants him now?
Randy Moss was waived by the Minnesota Vikings Monday, after just four games. Who will pick up the mercurial Pro Bowl receiver?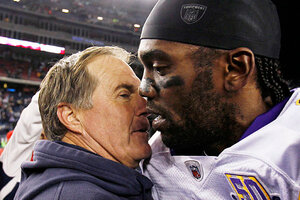 Winslow Townson/AP
Who's gonna get Randy's love now?
After the Minnesota Vikings loss on Sunday to the New England Patriots, Randy Moss went on a five-minute verbal love-a-thon directed at the New England Patriots.
Moss started by telling the Patriot team captains how much he missed them. Then, he called Bill Belichick the "best coach in football history." Randy turned his adoration for the owner, Robert Kraft and his wife Myra, to the fans in New England who made him "shed a tear" with the ovation he got as he walked off the field.
No, this isn't a soapy daytime drama.
It is "As the World of Randy Moss Turns."
So who will get the love next?
Most New England fans would say, "Hey, we'll take him back!"
Hold on, not so fast. Because the Minnesota Vikings put Moss on waivers, all other 30 teams would have to pass on Moss before New England could reclaim him.
---