ING NYC Marathon results 2010
NYC Marathon results 2010: big wins for first timers, return participants, and an unexpected celebrity.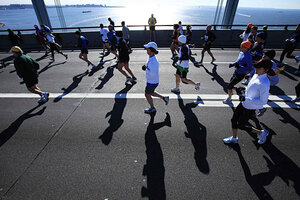 Lucas Jackson/Reuters
NYC Marathon results 2010 UPDATE - The crisp November air was just right for the participants of the 41st ING NYC Marathon, Sunday. More than 44,000 participants took to the streets of the five boroughs as city residents and visitors cheered them on from the sidelines of the 26.2-mile race.
Among the participants this year is one of the Chilean miners who captured the world's attention after being trapped 2,300 feet underground for 69 days. Edison Pena was the twelfth miner to be rescued from the Chilean mine.
He became known as "the runner" for his routine of running six to seven miles through the tunnels while singing Elvis Presley songs everyday while trapped underground.
He aimed to finish the marathon in six hours, Sunday. The Chilean hero beat his goal despite suffering from knee pain, and was welcomed by Elvis Presley music at the finish line.
The participants started in Staten Island and made their way through Brooklyn, Queens, Manhattan, and the Bronx, finally finishing in Central Park back in Manhattan.
The men's wheelchairers crossed the finish line in just over one hour thirty minutes. David Weir led the way followed by Masazumi Soejima and Kurt Fearnley. Kurt Fearnley was the 2009 NYC Marathon winner.
---