Broncos Spygate 2: Will the fingers be pointed at Bill Belichick again?
Denver Broncos coach Josh McDaniels and his team were each fined $50,000 because a Broncos' staffer videotaped an opponent's practice this year. McDaniels worked for Patriots' coach Bill Belichick during another video scandal.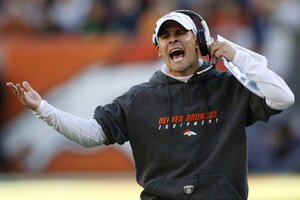 Rick Wilking/REUTERS/File
If New England Patriot fans don't want to see their team dragged into another debate about the authenticity of their three Super Bowl wins, they had better turn their heads because Spygate is back.
This time, the Denver Broncos have been accused of nefarious video taping of an opposing team. But that hasn't kept fingers from pointing at Foxboro again.
In the coming days, NFL commissioner Roger Goodell will determine the fate of Steve Scarnecchia, former Director of Video Operation for the Denver Broncos. The league fined the Broncos and head coach Josh McDaniels each $50,000 for a six-minute film of a San Francisco 49ers practice prior to their game in London on Oct. 31.
Scarnecchia turned the tape over to McDaniels the same day it was shot. The Bronco's head coach claims that he did not watch it nor did he report its existence to the league. That's why he was fined - for not reporting the tape's existence.
---