Patriots, Jets: Are you ready for some 'evenly matched' football?
Tis the season of parity in the NFL. The Monday Night party featured the New England Patriots and the New York Jets as exhibit A. But when the dust settled, the difference was the coach.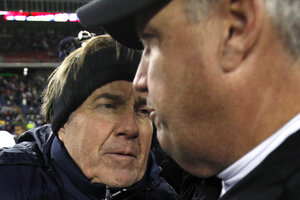 Photo/Michael Dwyer/AP
In this season of NFL parity, the difference is the coach.
The parity is evident everywhere. There are two divisions that are tied for the top spot and five that have a one game differential for that same position. The Kansas City Chiefs are the sole division leaders that have created some breathing room for themselves.
But Monday night's New England Patriots–New York Jets game aptly illustrated how the coach is the separator. Or as President Bush once said, "The Decider." Both teams went into the game tied for the lead of the AFC East with 9-2 records. The media were singing the praises of Rex Ryan as one of the NFL best coaches.
But after the lopsided 45-3 Patriots vanquishing of the Jets, no one is talking parity. Instead, Patriots coach Bill Belichick has emerged the clear master of the gridiron.
Coaching the team up.
---