What time does the Super Bowl start and what ads should you look for?
What time does the Super Bowl start on Sunday, and what exciting ads can we expect this year?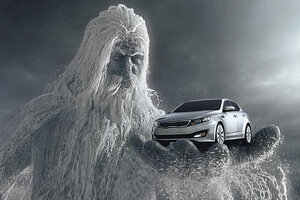 Kia Motor Corp./AP
Super Bowl XLV, Green Bay Packers versus Pittsburgh Steelers, is fast approaching. On Sunday, large-screen TVs across America will be tuned in to watch the two teams play for the 2010 NFL championship.
The Packers are the NFC champion, and are two- to three-point favorites, while the Steelers are the AFC champion and will be playing as underdogs for the first time since Super Bowl XXX.
So, what time does the Super Bowl start? While kickoff time is set for 6:25 p.m. EST at Cowboys Stadium in Texas, the Fox pregame show will run from 2 p.m. until 6. The pregame will include red-carpet interviews by Ryan Seacrest, performances by Willie Nelson and Alicia Keys, a preview of the halftime performance, and a reading of the Declaration of Independence.
---