Super Bowl 2011 forecast: 60 minutes of chaos
Super Bowl 2011 features two defenses unrivaled at creating havoc and two quarterbacks uniquely equipped to handle it.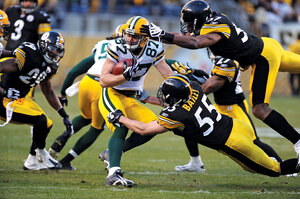 Mike Fabus/AP/File
In Super Bowl XLV, there will almost certainly come a moment when Green Bay Packers quarterback Aaron Rodgers looks out over the Pittsburgh Steelers defense and is utterly bewildered.
Equally certain, there will come a play when Steelers quarterback Ben Roethlisberger drops back to pass only to find that everything he had planned to do has gone completely and spectacularly wrong.
And that is when things will get fun.
Yes, Rodgers and Roethlisberger will have the customary numbers on their jerseys on Feb. 6 in Dallas. But in truth, what will really be on their backs are giant red X's, because they will be the targets of perhaps the two fiercest and most confusing defenses in pro football.
The Super Bowl forecast: 60 minutes of chaos.
Lining up against each other are two teams that are each the image of the other. The Packers and Steelers are franchises as storied as any in the National Football League, boasting defenses almost diabolical in their design – complex equations of hurtling men that quarterbacks must decipher in the space of a "Jeopardy!" click or risk a helmetful of snarling man flesh. For even the best quarterbacks, it can be duck-and-cover football.
---