Surfing in the winter
Clad in neoprene wet suits, surfers brave the freezing waves.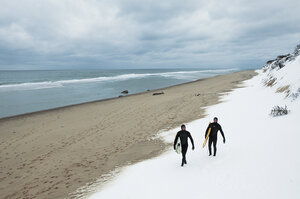 Melanie Stetson Freeman/Staff
Their form-fitting, neoprene black wet suits stand out in sharp relief as Mike Sandusky and Rob Baytor plow through untouched snow about a foot deep in Toronto's Ashbridge's Bay Park, rushing to reach the ice-encrusted beach at the edge of Lake Ontario. They raise their surfboards and jog into the water just as the morning light finally starts to filter through the cloud cover and gently falling snow, the remnants of the brutal winter storm that had hit Toronto the night before. The air temperature is about 25 degrees F. but feels closer to zero degrees because of the wind chill, and the water is just a few degrees above freezing.
"You get the biggest waves right after a winter storm," says Mr. Sandusky, who owns Surf Ontario, an equipment retailer for his chosen sport. "I've been surfing in the winter almost every swell in the last four years and we've been selling a lot more suits and boards this year. It's safe to say it's doubled in the last four years and growing."
The snow continues to fall as Mr. Baytor and Sandusky paddle their boards a couple of hundred yards past the whitecaps, and three more wet-suited surfboarders arrive and take the plunge.
---