Jim Gray tees off on caddy at Northern Trust Open
Jim Gray was pulled off the air by the Golf Channel after an incident with Dustin Johnson's caddy. He's now free to take in this weekend's marquee NBA and NASCAR events.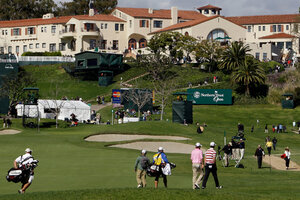 Reed Saxon/AP
Golf Channel analyst Jim Gray has been removed from the broadcast team for the remainder of the Northern Trust Open at Riviera Country Club in Pacific Palisades, California.
Dustin Johnson was assessed a two stroke penalty but avoided disqualification because he was late for his tee time Thursday morning. Johnson's caddy, Bobby Brown took responsibility for the logistical mistake.
However, Brown and other members of the threesome took exception to Gray's questioning of Johnson during live action. After the round was complete Brown and Gray got into a heated, profanity-laced argument.
Golf Channel spokesman Dan Higgins said Friday: "Our aim is to provide the best possible golf coverage for our viewers. Anything else is a disservice. In order not to provide further distraction, we've decided to remove Jim from this particular assignment." Gray was not available for comment immediately following the incident.
---