BYU basketball player suspended: sports world shocked – and impressed
The BYU basketball player suspended for the season Tuesday broke the BYU honor code by having sex with his girlfriend. Sports writers are shocked but respect the school for sticking to its values – even though the decision could spoil a potentially historic season.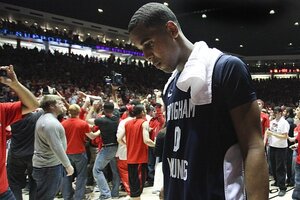 Newscom
The sports world is reacting with shock to news of the BYU basketball player suspended for the rest of the season.
On Tuesday, Brigham Young University suspended double-digit scorer and leading rebounder Brandon Davies for violating the BYU honor code – in this case having sex with his girlfriend. Playing the next night without Davies, BYU – which was 27-2 season and had a good chance to be one of the four, regional No. 1 seeds in the NCAA tournament – lost to New Mexico 82-64.
The punishment stands out not only because of its severity – college athletes in top programs are routinely slapped on the wrist for much worse offenses – but also because it essentially torpedoes what was shaping up to be a historic season for BYU, which is hardly a basketball powerhouse.
Because of that, the school has, a bit surprisingly perhaps, won no small amount of respect from the sports world.
BYU is a private university owned by The Church of Jesus Christ of Latter-day Saints, commonly known as the Mormon church. Nearly all of its 34,000 students are church members, most of whom will serve two years as missionaries.
The school has what to the rest of the academic world is a strict and perhaps old-fashioned honor code. Among its tenets: Be honest, live a chaste and virtuous life, use clean language, participate regularly in church services, observe dress and grooming standards (no beards or ear rings for men, no "form-fitting" clothing or more than one ear piercing for women), and abstain from alcoholic beverages, tobacco, tea, coffee, and substance abuse.
---