NFL lockout: If Friday's deadline passes, is the 2011 season doomed?
Thursday brought some positive news in the bid to avoid an NFL lockout, but even if Friday's deadline passes without a deal, there could be more opportunities ahead.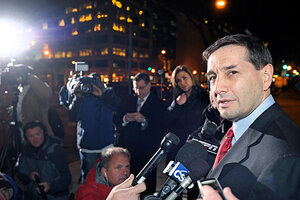 Cliff Owen/AP
The good news, of course, is that the National Football League has not locked out its players this morning. Both the owners and the players agreed Thursday to give themselves an extra 24 hours to see if they can resolve their differences.
The bad news, perhaps, is that the new deadline of midnight Friday is, in some ways, not much of a deadline at all. If a lockout arrives this weekend, free agency would be frozen and spring practices eventually canceled, but the pressure for a deal will remain relatively low until the threat of losing games becomes imminent in the fall.
Indeed, reports suggest that some owners wouldn't expect any serious negations until September, when the regular season is scheduled to start.
Yet a lockout, if it happens, hardly guarantees lost games. Almost immediately, it would set off a chain of legal challenges that could change the shape of the impasse and bring the parties to the table sooner. Moreover, the passage of time – and particularly the growing threat losing of games – could stoke anger to an unprecedented pitch as fans wonder why the richest and most popular league in American sports can't make things work.
"Any deadlines missed simply lead to the triggering of new timelines, new points of leverage, and not only draw more clarity to the differences [between the two sides], but also begin to uncover fan disgust and sponsor and broadcast unrest," says David Carter, director of the University of Southern California Sports Business Institute in Los Angeles.
---