NFL head-butting all about millionaires vs. billionaires
National Football League players and team owners opted to keep talking, despite the expiration of the current contract. But in the $9 billion sport, the biggest stumbling block remains money.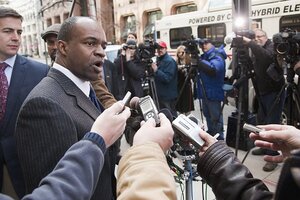 Evan Vucci/AP
So far, no NFL player lock-out.
For pro-football fans, that's perhaps the most encouraging thing that can be said as the National Football League owners and players continue for another week their testy talks over money, schedules, and benefits for retired players.
Both sides opted on Friday to keep talks going, despite the expiration on Thursday of the current contract between players and team owners.
The biggest stumbling block remains money in a sport that pulls in some $9 billion in revenue a year.
Many team owners feel they gave away the store in a 2006 agreement in which they get $1 billion off the top, then split the remaining $8 billion 60-40, with players getting the 60 percent.
Then the economic crisis hit, which owners say cut into revenue and actually sliced roughly $20 million from the average value of an NFL team. Now, owners want $2 billion off the top, while retaining the 60-40 split – in essence cutting player salaries.
At the same time, however, owners want to extend the regular season by two games, something players who already endure a bruising 16-game regular season balk at unless it comes with more, not less money. Money aside, players-union representatives also note the irony in adding more games while the league has been expressing greater concern over player injuries.
For many recession-weary Americans, the tug of war over cash may seem little more than a distant spat between millionaire players and billionaire owners.
In a frosty, you've-got-to-be-kidding-me blog post, ESPN sports commentator Rick Reilly points out that half of the owners have a combined net worth of $40 billion, more than the majority of countries on the planet are worth.
---