March Madness: Who's in, who's out of the NCAA basketball tournament
The NCAA basketball's biggest tournament, aka March Madness, is upon us. The top four seeds announced Sunday: Ohio State, Duke, Pittsburgh, and Kansas. But with 68 teams in the NCAA basketball event, it's anyone's guess who will make it to the Final Four.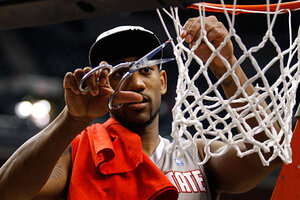 Brent Smith/Reuters
College basketball fans, March Madness has officially arrived.
This year's 2011 NCAA Tournament bracket revealed Sunday was full of emotion for all those involved — hopefuls, automatic bid winners, and those denied a spot among the 68 teams competing.
Ohio State snatched the overall top seed after clinching a Big Ten Championship with a decisive victory against Penn State early Sunday. But the Buckeyes, who earned the No. 1 seed in the East Region, will face what many consider this year's most competitive pool. Joined by Kentucky, which was named the SEC Champion on Sunday after a blowout win against Florida, Big East powerhouse Syracuse, and ACC regular-season champion North Carolina, the East will prove a tough, stacked road to the Sweet Sixteen and beyond.
---